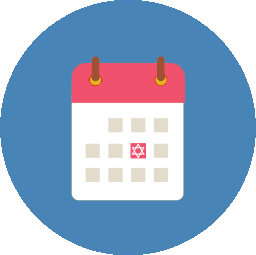 Celebrate and Donate is a way to use your special simcha – a birthday, Bar or Bat Mitzvah, wedding, anniversary or other occasion– to help make a big difference. By asking for donations instead of gifts, you'll help fund the amazing work of Shuvu. That's definitely something to celebrate!
Give the gift that will last a lifetime
If you would like to help another boy perform the biggest mitzvah in connection with becoming Bar Mitzvah see below about sponsorship or part-sponsorship opportunities.
These boys are striving to be religious against all odds. Sadly not all their parents are observant and do not yet understand the significance of Tefillin, and those that are starting to understand cannot afford the considerable cost of purchasing Tefillin. They are truly desperate to observe this mitzvah.
The Tefillin sent to Shuvu schools in Israel are bought at cost price and are of a high quality so that they will last a lifetime. A pair of Tefillin costs £400. Your generosity can help a young person to fulfil an integral mitzvah for the rest of his life.
Letter to a donor in USA from Shuvu Student, Maxim, Petach Tikva
My name is Maxim. My parents and I immigrated to Israel from the Ukraine eight years ago, from the city of Lvov. My family and I observe Torah and we try to fulfill as many Mitzvot as we can. At this joyous time I am happy to be responsible for doing Mitzvot, and that of Tefillin, in particular. Unfortunately, my parents are not able to buy for me a pair of Tefillin. I am therefore very happy that my school where I study in the seventh grade, Shuvu Petach Tikva School said they will try and arrange a pair of Tefillin for me.
I would like to thank you, my dear friend, with all my heart for your help in getting this Tefillin for me. Thanks to your help, and the Zchut of the Tefillin, I will, B'Ezrat Hashem, succeed in my Torah and Tanach studies. For this I am very grateful to you!
I want to dedicate/contribute towards a pair of Tefillin for a Bar Mitzvah boy in Israel
Please contact me to discuss this programme, I would like to find out more information
Please complete the form below and we will send you a receipt in due course.
If you are able to sponsor a pair of Tefillin (minimum donation of £400), the recipient will want to thank you personally. We will forward correspondence from the boys to the address provided.
*Gift Aid cannot be claimed if payment is made by charity vouchers.
Please return this form together with any payment
(cheques made payable to British Friends of Shuvu, charity vouchers or cash) to: 17 Golders Court, Woodstock Road, London NW11 8QG
Tel: 020 8209 3010 Fax: 0870 460 4997
Email: info@shuvu.org.uk Charity No: 1100984